Nauru, C21HA, 2012
DXpedition report: C21HA, Nauru
One month on an out of the way island that's really way-out...
(HA5AO and HA5UK)
- Keep it simple! –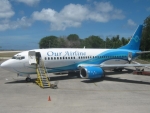 Early 2011 (after our successful YJ0HA-Vanuatu trip) we decided to strike the chords again and after some research voted for another Pacific tour in autumn with a target this time of Tuvalu, Banaba, West Kiribati and Fiji with primary focus on the first two. Lots of investigation led us to understand that landing at Banaba is not an ordinary issue—we would have to hold the landing permission of 'The Council of Elders' besides the allowance of Kiribati Government. This 'Council' (they live far from Banaba) was difficult to connect with so we ran out of time when finally they accepted our plan, so we had to postpone the trip to next January. Meanwhile we encountered some other troubles. The air flight between Fiji and Tarawa was temporarily suspended and the nationwide freshwater crisis on Tuvalu resulted in an extreme limitation on checked baggage and moved water to being a top priority cargo on the planes. That would not have made any sense to go to Tuvalu as the only target with an allowance of only a carry-on package. We are considered as "backpackers" compared to the huge DXpeditions, but with that light setup limited to a total of 30 kg we couldn't get close to our goal. While there wasn't any 'B plan' yet, we didn't want to cancel or postpone our trip again. We had prepared and set our personal life for being off for a month and decided to change our destination all of a sudden. Thus we voted on Nauru, marked as one of the most wanted places in the Central Pacific by DXCC wish-lists (far better ranked than Tuvalu or Kiribati as it turns out).
C21HA QSL Info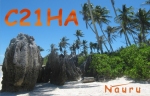 The QSL cards for the principal individual sponsors and the first huge batch of QSL cards for the request we received by OQRS system, were posted yesterday. The QSL cards have also been sent to the sponsor DX Clubs to forward to their members. Now, our QSL manager continue to process the direct requests were received by post. We uploaded the log to the LotW from Nauru. By now, more than 45 % of the total QSOs were confirmed via LotW. We could submit our application for the Mix and CW DXCC Award via LotW only. There are 4 confirmation missing for the WAS Triple Play Award, 3 RTTY (DE, SD, VT) and 1 SSB (DE). We do hope to receive these confirmations, soon.
C21HA signal recording
C21HA 20 m CW 23 01 2012 (TNX Tomi HA5PT)
C21HA QRT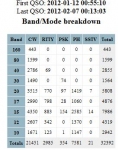 After 26 days of operation C21HA went QRT at 00:15 UTC 07 February. The "two back-packers single station show" is over from Nauru. There are 32392 QSOs in the log from 160 DXCC entities. Detailed statistical information available on the log search page. The log has been uploaded to the LotW, as well. The OQRS service is now opened and available at the Clublog on-line logsearch page.
News from C21HA, VII
On the 24th day of our operation we exceeded the 30 kQSO. There are 30302 QSO in the log. During the last 3-4 days we were able to work on the top band. The equatorial noise level went down to S2-S3, which is still high to hear the EU stations. The second station actually has not been running for days. The imrovised Inverted L antenna is not effective enough to get over with 100 W not even to State side at this low sunspot number periode. (As you know, the motor of our SteppIR BigIR antenna gone at the transportation.) The 95 percent of the QSOs were made on one station.
News from C21HA, VI
Yesterday morning (UTC) there was a nice, but very short opening to EU on 15 meters band. The band was open for 20 minutes only, but we could log several EU stations. The complete opening, from the very beginning was recorded, including the pile-up, by HA5PT, Tamas. You can hear this nice opening here in this link. Thank you Tamas, HA5PT for this valuable recording.
This morning around 20 UTC we could log some EU station first on 12 meter, than on 10 meters band. We were calling EU only several times, but IT9TJH is in the log on 10 meters band only. We will countinue to monitoring the higher bands.
News from C21HA, V
Last night on the 80 meter was less noisy making it possible to hear the stations from State side. However there was stormy weather which caused some minor damages on the antenna system in the time of 80 meter NA operation. We can do nothing during the night in the high tide, than to wait for the morning low tide. We could make some QSO with the damaged antenna on 40 meter early in the morning.