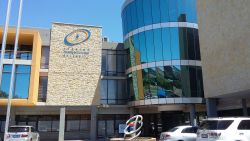 Pista HA5AO arrived Maseru, Lesotho on the afternoon of Friday, 14 Oct with 4 suitcases weighing over 110 kg (242 lbs) of radio equipment and gifts for the orphanages where he is a volunteer.
He began setting up the station and antennas on Saturday and will finish on Sunday. The noise levels are S2-3 on the higher bands, but S5-6 on the low bands. He has an appointment on Monday with the Lesotho Communication Authority to pick up the license. He has written confirmation that a special callsign, 7P8EUDXF, may be issued celebrating 30 years anniversary of "European DX Foundation" (EUDXF). At this time he does not plan to use 7P8AO, just depends on what is actually issued on Monday.
He hopes to be on the air starting Monday 17 Oct for at least 10 days - look for him on CW, late afternoon and evening / night. Blackouts are frequent, usually 15 minutes to 1 hour. If he unexpectedly disappears without sending QRX or QRT it is possibly due to a blackout. There is Internet access, he will upload logs daily to OQRS on - HA5AO.com - he will operate has much as possible. He begins working on his humanitarian projects on Tuesday.
73,
Gene K5GS for Pista 7P8EUDXF